This is the second post of a three-part series on my thoughts about land use and transportation in Atlanta. Above image, sprawl repair plan for Mabelton, GA (source)
In the first part of my Using the Land in Atlanta series, I explored some thoughts on the state of sprawl damage to the Atlanta region and the way transportation planning, when separated from land use, is made inefficient and expensive in the realm of car-dependent development. In this installment, I look at some potential solutions for reversing the damage.
Compact land use in Newton County, GA
In a recent post titled Regional Planning Done Right, writer Kaid Benfield praises Newton County, GA for moving toward a plan for compact, walkable land use that preserves the environment while accommodating that county's rapid growth:
The result is a shared commitment to direct growth into five planned compact communities, placing 88 percent of the future population on 30 percent of the county's land. These communities will be walkable, with neighborhood schools and a mixture of uses. The open space and working farms in the rest of the county would be preserved for future generations.
This is the kind of thing that should serve as a pattern for the Atlanta region (and yes, I'm aware that Newton isn't in the Atlanta region — but it still can serve as a model).
Plans for preservation and compact land use need to enter the conversation about transportation. Let's think about transportation funding in terms of how mobility patterns are negatively affected by sprawl and how they can be made more efficient by a correction to the harmful, car-centric development patterns of the past.
An example of "sprawl repair":
Synthesizing transportation and land use in Charlotte
Charlotte, NC is often pitted against Atlanta as vying for the title of 'new capitol city of the southeast'. But when it comes to good land use policy — the kind that can lessen transportation problems — Charlotte may already have Atlanta beat.
According to this Atlantic Cities piece, in the 1990s, Charlotte's business community "led the effort to transform the city in order to retain talent."
The regional economic development partnership brought in an Urban Land Institute advisory services panel of real estate and land use planning experts…to study the city's downtown. Subsequent studies explored how the city could develop the greater Charlotte region and market itself to businesses and workers worldwide.

Charlotte continues to improve the quality of life for residents through the synthesis of transportation development and land use. It is a model for what cities can do to achieve sustainability and economic prosperity.
Synthesizing transportation and land use isn't just for cities. Atlanta regional leaders should recognize that car-centric sprawl in the suburbs is the major source of traffic problems. They should commit to a a forward-thinking joining of transportation development and compact land use. 
Home-grown hope for the future
We have some great local talent that is offering wonderful ideas for truly moving the region in a better direction. Ellen Dunham-Jones at Georgia Tech has a book about retrofitting sprawl called Retrofitting Suburbia and it has proven very influential in urbanist circles.
Ryan Gravel is the mastermind of the Atlanta Beltline which has garnered international attention for Atlanta with its innovative plan for serving urban neighborhoods with new greenspace and mobility.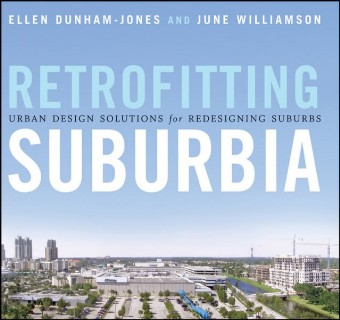 There's room for more innovative thinking on the home front. We need innovations with sustainable, dedicated funding for transit operations. We need innovations in providing more affordable housing in areas well-served by transit — to reverse the trend of low-income metro residents finding affordable homes only in suburbs where expensive car ownership is required.
And most of all, we need innovations in leadership so that all of the good ideas can be drawn from to create a cohesive plan that can be realistically implemented as quickly as possible.